CCTV Camera Systems – which is best for you?

Overwhelmed with choice? Here's our quick guide on the top CCTV cameras.
When protecting your home or business, a good quality and reliable CCTV system is a wise choice. The security camera can act as a deterrent to potential intruders and, in the event of a crime, the footage can be used by the police to catch the perpetrator. When it comes to choosing the best type of CCTV system, there is a range of cameras to choose from. AT LDN Security Solutions, we design, supply and install a wide range of Security Camera systems for both home and commercial projects.
Whilst we can install many different cameras, below are the top 5 most commonly used security cameras:
Turret Cameras
Best for: Internal and external use and particularly good for night time external imagery.
The Turret camera is suitable as both an indoor and an outdoor CCTV camera. It produces high quality night time images as it doesn't get the infrared bleed that often happens with dome cameras (which results in a lower image quality). A 2.8mm lens gives you a 115 degree viewing angle and there is also a varifocal version available, so you can zoom in for a closer perspective. The design is compact and discreet which means minimal visual impact on the property. It is also available in a range of finishes.
---
Bullet Cameras
Best for: Far reaching night images
Typically an outdoor security camera, Bullet cameras have powerful infrared capabilities for night vision and can reach further than the turret cameras. They have a strong varifocal lens, reaching up to 200m and so are suitable for large properties. Due to the size, they aren't as discreet as the turret camera. However, for certain applications, this can be a benefit as it will act as a deterrent to intruders.
---
Mini dome camera
Best for: Doorway entrances and internal use
Due to the neater and more discreet design of these security cameras, they are a particularly good internal camera or for directly outside an entrance to a doorway . Despite being a dome camera, they don't get the same IR bleed as other larger dome models, so the night imagery is clear. However the night vision distance is shorter and therefore more suited to smaller areas.
---
PTZ Camera (Pan, Tilt and Zoom)
Best for: High quality detailed images
The PTZ has a big range and strong zoom. It's possible to take complete control of this camera which means you can zoom into a person's face or vehicle registration plate for more detail. The camera can also do this automatically if smart tracking is enabled.
---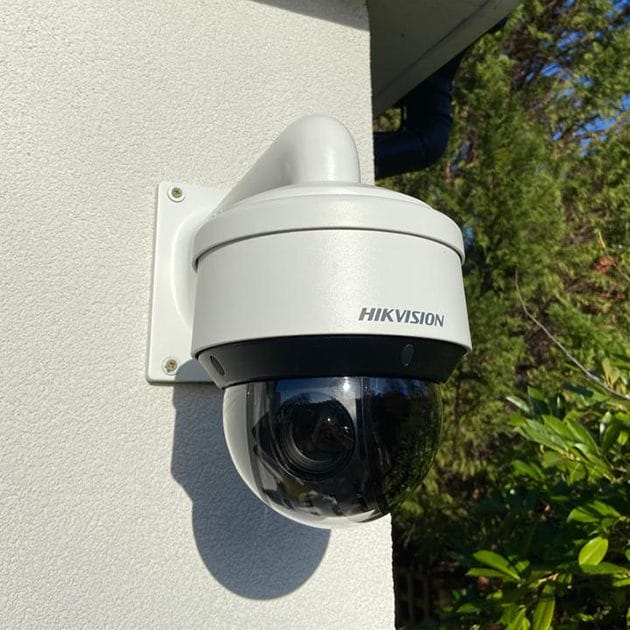 Mini PTZ Camera
Best for: High quality images with a more discreet camera
The mini PTZ has all the features of its larger counterpart but in a smaller size. The only compromise is that it has a slightly smaller zoom and infrared distance.
---
We are seeing manufacturers adding extra technology to the newer models of their CCTV cameras such as built-in speakers and strobe lighting. Make sure you ask about any additional features available when discussing your CCTV camera system options. The majority of cameras we install are HIK Vision CCTV cameras and we are a HIK Vision Silver VASP Partner.
If you would like more information on Security cameras, visit our CCTV page, or contact us for discuss your requirements in detail.